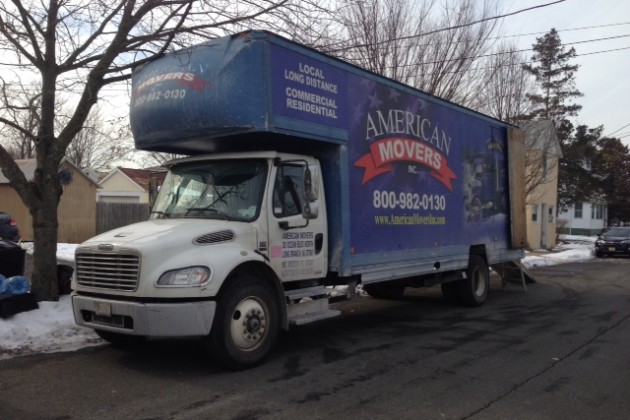 Moving in bad weather is definitely not an ideal situation, but it is possible to get yourself and your belongings successfully from point A to point B sin the rain, snow, brutal cold, or whatever other less-than-optimal weather conditions Mother Nature is throwing at you. Here are a few tips for a move well done rain, snow, or (no) shine.
Take extra safety precautions.
Moving is a physical process that requires a lot of heavy lifting and foot traffic in and out of your home. Whether you're taking the DIY route or hiring movers, take extra safety precautions to ensure that things like wet floors or iced-over stairs don't create hazardous conditions. Lay towels or flattened cardboard boxes down in the entryway of your home and throughout hallways and heavily trafficked areas to help absorb water (bonus: this will help protect your floor from damage as well), and be sure to salt the driveway and stairs if snow or cold is in the forecast.
Protect your furniture.
When it's sunny and dry outside, an old bed sheet or blanket might be all you'd need to effectively protect things like upholstered furniture and wooden antiques. But in the rain–even if your things will only be in the elements during the transition when they're being loaded and unloaded from the truck–you'll need waterproof protection. It only take a little bit of moisture to give furniture a mildew smell or warp the finish on an antique piece. For sofas or chairs, you can order large disposable plastic furniture covers online for anywhere from $10-$20, while smaller items can be covered in plastic wrap or garbage bags.
Turn off the heat.
If your heat is blasting during the move, don't forget to turn it off before you leave your old home. Nothing will put a damper on your first night in your new place like having to drive back to your old one to shut off the heat.
Known when to call it quits.
Of course, there are certain weather conditions that are too dangerous to move in, like snow of more than a few inches, freezing rain of any sort, or high wind conditions — especially if you are moving yourself and are driving a large vehicle you're unfamiliar with. It's better to reschedule than to risk injury or damaged property.
For more moving advice or to get a quote for a move in New Jersey, New York City or Connecticut, get in touch with American Movers, Inc.
https://americanmoversinc.com/wp-content/uploads/2015/11/moving-service-cost-American-Movers-New-Jersey.jpg
420
630
Kaitlin Madden
/wp-content/uploads/2016/08/amilogo100-1.png
Kaitlin Madden
2016-12-19 10:12:23
2016-12-19 10:12:23
Tips for Moving in Bad Weather